Programs
The Office of Communications, Partnerships, and Grants provides timely information about state educational initiatives to schools, school districts, the public, and the media. Through a wide variety of written communications, Internet sites, and video technology, timely information is available on a full range of educational subjects.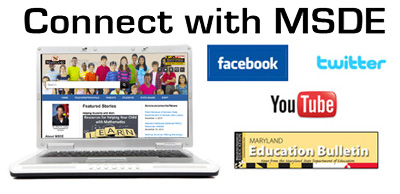 The duties of the Office of Communications, Partnerships, and Grants include the following:

Implementing a departmental communication plan to increase understanding of the value of public education among the public, legislators, business and civic leaders, parents, and the news media, as well as Department's role in improving schools.


Providing expertise in designing, developing, and managing major grant program initiatives for the Office of the State Superintendent. This includes coordinating the pursuit and management of external funds from public and private sources; overseeing special projects; and facilitating communication in the development and management of programs.


Develops corporate and other partnerships and secures underwriting and other grants for non-state or federal funded programs and activities. The Office also oversees and coordinates Maryland's major education recognition programs such as the Teacher of the Year Program, Blue Ribbon Schools Program, and the Milken National Educator Awards.


Contact Information
Cheryl Wells
Office of Communications, Partnerships, and Grants
Maryland State Department of Education
200 West Baltimore Street
Baltimore, MD 21201
Phone: 410-767-0368


Partnerships
Grants
Publications