Press Release: Celebrating Through Art!
For Immediate Release

Annapolis, MD (April 22, 2016)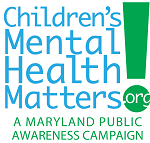 The First Lady of Maryland, Mrs. Yumi Hogan, will host a children's art show in the Lowe House Office Building to mark Children's Mental Health Awareness Week May 1-7th. Children and youth from across Maryland have submitted works of art for display depicting something which makes them feel mentally happy, healthy, and hopeful. Youth artists with and without disabilities will come together as one artistic voice to highlight the importance of good mental health for all children in Maryland. Mrs. Hogan will host an art opening and reception on May 2nd for the artists, their teachers, and families.
The Maryland Department of Disabilities, Mental Health Association of Maryland, Maryland Coalition of Families, Maryland State Department of Education, and Center for School Mental Health have partnered on this initiative to bring attention to the need for unified and aligned strategies when addressing children's mental health needs in our state.
The Lowe House Office Building is located at 6 Bladen Street in Annapolis. The display is on the first floor and the building is open to the public. For more information on the Children's Mental Health Matters Campaign, please visit http://www.childrensmentalhealthmatters.org.

For media inquires, please contact:
Carrie McGraw, PIO
The Maryland Department of Disabilities
410.767.3660 (office)
443.852.3036 (cell)
carrie.mcgraw@maryland.gov
217 East Redwood Street, Suite 1300
Baltimore, MD 21202
www.mdod.maryland.gov

###