Student Resources
The Maryland State Department of Education does not necessarily endorse any links from this site, and is not responsible for their content or any consequences arising thereof.
2016 Maryland Student Records Manual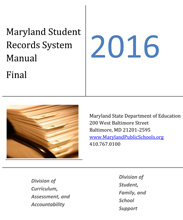 Top 5 Things You Need to Know
about Testing in High School


English
November 2014


Early College Credit FAQ
Frequently Asked Questions about the Dual Enrollment Provisions
of the College and Career Readiness and College Completion Act of 2013
To learn more about these two options, use the Frequently Asked Questions
about Early College Credit.
January 2014

MSDE Emergency Planning and School Safety
Information on emergency planning, school safety,
and state regulations pertaining to schools.

Maryland High School Graduation Requirements
April 2016


Information on Assessment Requirements for Graduation
09.24.2015


High School Assessment (HSA) Information


AutismConnectMD
The purpose of AutismConnect is to provide stakeholders in the state of Maryland with an online resource that will assist them in locating and securing resources for individuals with Autism. The website focuses specifically on research, educational resources, and advocacy organizations available to families in Maryland.


Maryland Scholars
Maryland Scholars provides middle and high school students with compelling information about the rigorous coursework they need to take and complete in high school in order to be successful in life ? whether they go on to college or enter the workforce directly.


Start Something
Start Something is a program designed to help young people ages 8 to 17 identify and achieve their dreams and goals. It shows you how to take positive actions that will bring you closer to your goals, and helps build qualities like initiative, leadership and community stewardship. Start Something is sponsored by Target Stores and the Tiger Woods Foundation.


Young Epidemiology Scholars (YES) Competition
In an effort to raise awareness of public health and the field of epidemiology among our nation's students, the Robert Wood Johnson Foundation and the College Board have begun national competitions for high school students and teachers--the Young Epidemiology Scholars competition.


Maryland Manual On-line: A Guide to Maryland Government


Children's Literature Web Guide


Tackling Tobacco Abuse In Modern K-12 Schools