Press Release: Lt. Governor Brown, MSDE Announce $4.3 Million In Grants To Fund Maryland's Prekindergarten Expansion

State partnering with local providers and school systems to expand high-quality pre-K to an additional 1,563 children
For Immediate Release                      

Contact: Lauren Gibbs, Lt. Governor's Office, 410-570-3115
Jenaya Parris, MSDE, 410-767-0602

Perry Hall, MD (July 28, 2014)
Today, Lt. Governor Anthony G. Brown was joined by President of the Maryland Board of Education Dr. Charlene Dukes, Baltimore County Superintendent of Schools Dr. Dallas Dance, other state and local officials, and early childhood education advocates for a press conference announcing $4.3 million in Prekindergarten Expansion Grants to 24 providers throughout the state. The grant program is made possible by the O'Malley-Brown Administration's Prekindergarten Expansion Act of 2014 (SB 332), which Lt. Governor Brown led the effort to pass during this year's legislative session. Under the expansion, the State is partnering with local providers and schools systems across the state to expand high-quality full and half day pre-K to another 1,563 children.
"Every child in Maryland deserves to be able to climb the ladder of opportunity towards success, and expanding access to quality early childhood education is a critical part of our effort to close the achievement gap throughout our state," said Lt. Governor Brown. "With this $4.3 million investment, we're ensuring that another 1,560 of our children will have access to a high-quality Pre-K program this year. By working together with educators, advocates, parents, and members of our communities, we're one step closer to making high quality, voluntary Pre-K available to each and every one of Maryland's children."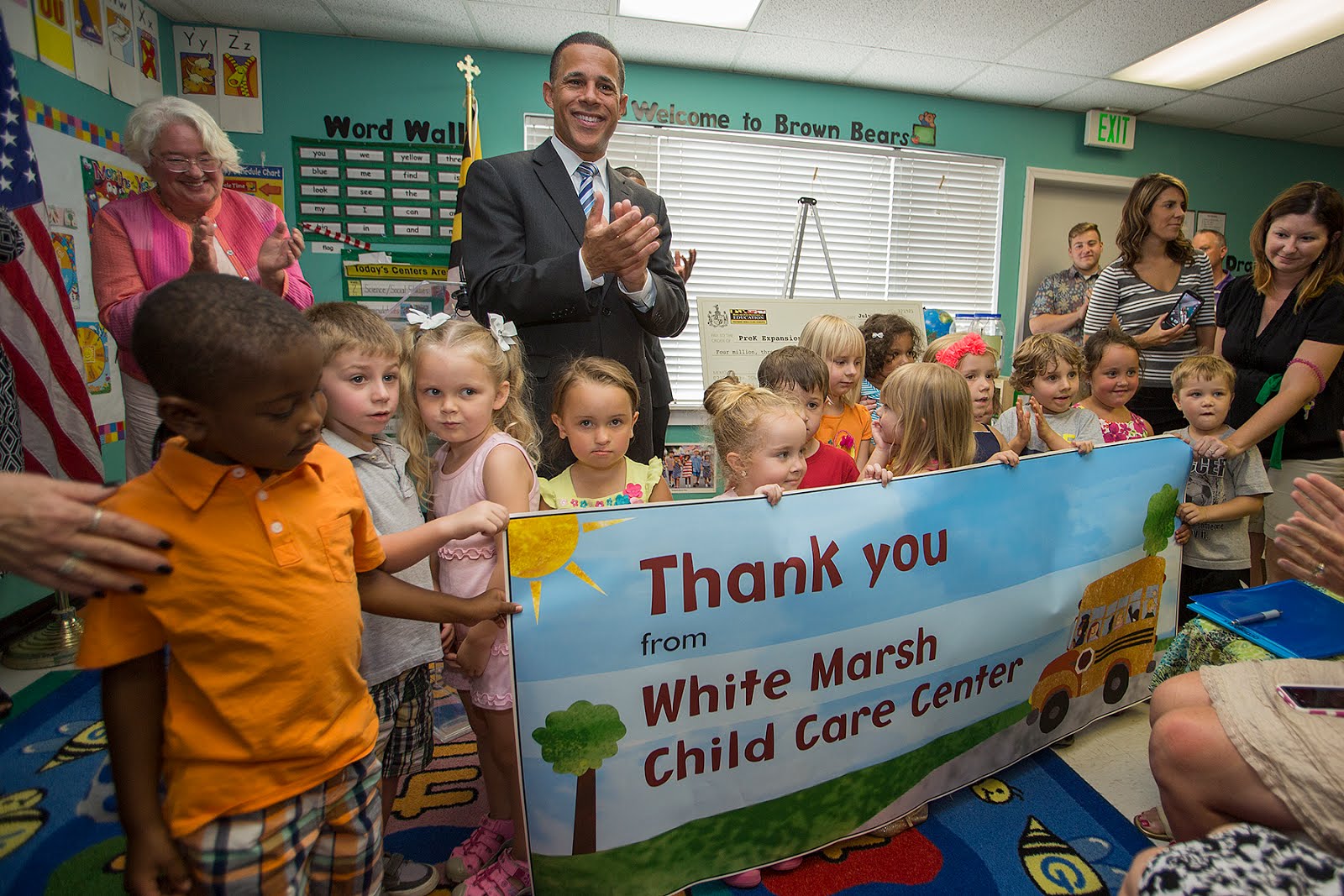 Today's announcement took place at White Marsh Child Care Center (WMCCC), one of five programs in Baltimore County that are receiving a total of $770,000 in funds to expand their services under the grant program. WMCCC will receive $112,000 to support an additional 20 four year old children. The Center also plans to use these funds towards teacher salaries and technology upgrades in the classroom (including computers) in order to reach families in need of educational services.
"Baltimore County has been, and continues to be a leader in early childhood education, and this $770,000 in State funding for pre-kindergarten expansion recognizes our ongoing commitment and will make a real difference in our communities," said County Executive Kevin Kamenetz. "I want to thank Governor O'Malley and Lieutenant Governor Brown for their commitment to education in Baltimore County."
The Prekindergarten Expansion Act of 2014 (SB 332) builds on the State's existing pre-K system and expands the number of pre-K slots available to include Maryland children whose families make up to 300 percent of the Federal Poverty Guidelines. The bill represents the first step toward expanding pre-K to all Maryland children by establishing a competitive Pre-Kindergarten Expansion Grant Program and Fund through which local school systems and local providers were able apply to establish, expand and enhance existing pre-K programs and highly effective Judy Centers. Recipients were selected by the Maryland State Department of Education (MSDE) following the application process which began in April. See attached for a full list of recipients.
"This Prekindergarten Expansion Grant builds upon the existing public prekindergarten system and moves us even closer to the target goal of providing universal access to high-quality prekindergarten for Maryland children of all income levels," said Dr. Lillian M. Lowery, State Superintendent of Schools.
The programs selected for expansion span nearly every part of Maryland (see map here) and reflect the wide spectrum of high quality early childhood programs in the state that serve 4-year olds:
$1.8 million for 17 community based providers who in partnership with their local school systems will expand pre-k to children at their existing sites;
$2.5 million to 7 local public school systems to expand pre-k, including three new Judith B. Hoyer Centers; and
A unique partnership in Baltimore City between the State and Baltimore Commmunity Foundation, sponsored by the Ravens and M&T Bank, that will allow for a new Judy Hoyer Center to open at Arundel Elementary School in Baltimore City.
"High quality pre-k plays a critical role in preparing Maryland's children for success. This initial expansion is part of a larger effort to one day provide pre-k to all Maryland children. We want to thank Lt. Governor Brown for his leadership and partnership in this important effort," said State Senator Nancy King who, along with State Senator Bill Ferguson, was a leading supporter of this legislation in the Senate.
A 2007 study by the Economic Policy Institute found that in Maryland, revenues to the State Treasury would increase more than $2 for every $1 spent on early education. The overall return on investment on general economic activity is predicted to be 8.7 times the amount invested. This is due to the fact that investments in early education help children succeed later in life and reduce the likelihood that a child will end up needing government assistance or spending time in a correctional facility. ("Enriching Children, Enriching the Nation Maryland Summary," Lynch, Economic Policy Institute, July 2007)
"Today's pre-K announcement is an important step forward for Maryland children and families," said House Ways and Means Chairman Sheila Hixson. "Providing our children with high quality pre-k helps prepare them for a lifetime of learning, engages families in their children's education and reduces long-term costs to government." Other leading pre-K expansion advocates in the House included Delegate Anne Kaiser and Delegate Sandy Rosenberg.
"Maryland has made incredible progress over the last decade in closing the achievement gap," said MSEA President Betty Weller. "Expanding our pre-k program is a smart, research-backed method for further closing existing gaps and better preparing all of our children to achieve and excel in school."
In order to encourage partnership with the private sector and local and national foundations, the grant program allows businesses and philanthropic entities to contribute funds to support the expansion, which will be matched by MSDE.In addition to the $4.3 million in State funding announced today, the Baltimore Community Foundation (BCF) has established an agreement with MSDE and Baltimore City Public Schools to fund the opening of a new Judy Center at Arundel Elementary/Middle School in the Cherry Hill neighborhood of Baltimore City. BCF's contribution, sponsored by the Ravens and M&T Bank, is $165,000 per year for three years which represents 50% of the operating costs for a Judy Center. The remaining $165,000 is covered by MSDE. After three years, MSDE will assume total operating costs for the Judy Center.
"One of the Baltimore Community Foundation's education goals is to ensure that 90% of Baltimore's kindergarteners are ready for school by 2017," said BCF President and CEO Thomas E. Wilcox. "The Prekindergarten Expansion Act of 2014 will provide a boost for getting all children to arrive at Kindergarten ready to learn. We know that public-private investments are a powerful way to address what seem like intractable problems. That is why our partnership with Maryland State Department of Education and City Schools is so central to the success of our school readiness goal."
Despite making more cuts to state spending than any previous administration, Governor O'Malley and Lt. Governor Brown have chosen to protect targeted investments in priorities like education and job creation. The FY2015 budget builds on Maryland's #1 school ranking and paves the way to global competitiveness for our children. It includes a record $6.12 billion investment in K-12 education, which is an increase of 37 percent compared to FY2007. In addition to the $4.3 million for additional Pre-K opportunities, the Administration will invest $289 for the Public School Construction Program, bringing the O'Malley-Brown Administration's average annual investment to the highest ever at $345 million.

Maryland's Prekindergarten Expansion Grant Recipients


###
Lauren Gibbs
Press Office of Lt. Governor Anthony Brown
Lauren.Gibbs@maryland.gov | o (410) 260-3847 | c (410) 570-3115
www.governor.maryland.gov/ltgovernor