Press Release: Read Across Maryland Kicks Off Thirty Days Of Reading

For Immediate Release Contact: Bill Reinhard, 410-767-0486


Baltimore, MD (February 28, 2014)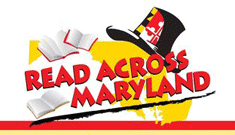 Maryland State Department of Education's Division of Library Development and Services and the Division of Instruction will join with the Governor's Office to celebrate the kick off of Read Across Maryland, an annual event in March to highlight the importance of reading by setting aside thirty minutes a day to read. With the slogan, "Thirty Minutes for Thirty Days," students and library customers are encouraged to download a Read Across Maryland reading log, record their progress for the month and then upload the log to the Read Across Maryland website (http://www.readacrossmaryland.org/).
Today, February 28, is the kick-off at the Spauldings Library in Prince George's County, where elected officials and library staff along with students from Samuel P. Massie Academy will gather for refreshments and orientation to the program. Throughout the month, special book clubs will be held with a local radio celebrity, and Tray Chaney, actor from The Wire, will perform his song "Radical Readers."
A "Green Eggs and Ham" breakfast will be served on March 3 with a life-size Cat in the Hat, and Thing One and Thing Two commemorating the beloved children's author Dr. Seuss. Lt. Governor Anthony Brown will read to the students.
An exciting new event has been added to the calendar on March 4. Through a grant from the National Education Association, the Maryland State Education Association will host the "All about the Kids—The Clara Floyd Early Literacy Project," a book distribution to over 200 children at Samuel P. Massie Academy, District Heights Elementary School and the Francis Scott Key Elementary School. These students will come to the Spauldings Library and enjoy a puppet show, eat some pizza, receive a book on the way back to school and a library card to encourage further reading opportunities.

The finale of the Read Across Maryland month is set for April 8 with a special pizza party for the outstanding students. The Governor will be on hand to congratulate the students and their families.

Throughout the month, as part of Read Across Maryland, the Maryland State Department of Education will collect new books in a book bin provided by the Weinberg Library project. These books will be delivered to one of the libraries currently being built by the Weinberg Library project. Another way to give will be online through the website http://www.baltimorelibraryproject.org. Just $7.00 will buy a brand new book for one of the new Baltimore City libraries. The Weinberg Library Project has remodeled six Baltimore City Public School Libraries with three currently under construction.
Join us in focusing your attention on reading in the month of March and giving to the book drive. More information can be found at http://www.baltimorelibraryproject.org.